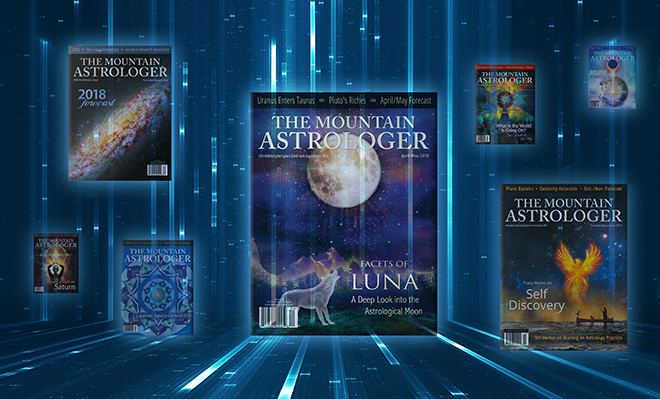 Whether I buy a program, download it, or get it as a review copy, I find this approach useful not only as a means of understanding the program itself, but also as a way of getting to know its strengths and its weaknesses. Crashing around like this can, after all, hang up a piece of software or cause it to crash in some weird way, or even produce odd output of some sort, so a program's behavior under this kind of stress can be very informative. In the case of AstrolDeluxe, it did none of the bad things, but rather did what it was supposed to do without either crashing or hanging, and when it didn't do exactly what I expected, the easily available help file plus the included printed documentation always nudged me in the right direction.
The main screen from which you do all charts and calculations is self-explanatory, but pulling down the menus at the top was a bit of a surprise at first, as there are a wealth of options you can set beyond the basics of house system, sign, and aspect orbs. Most people won't need to change any of these options, but they do allow you to fine tune the program to your exact specifications. Charting is very straightforward, as once you have filled in the birth date, etc. One of those choices, an aspect chart, is shown below.
Any chart you can see on screen can be copied to the clipboard as text or as a graphic, though of course these can be printed as well, and when printing a chart wheel, you are given the choice to include grids. There is no chart-designing facility as with some software, but the charts are good, clean and readable. Aside from printing a chart or copying it as a graphic, you can also save the information it contains in a variety of forms such as an old-fashioned ASCII chart or as a web page version of this, or you can write it to a dbase file, or even something called an "XML" file.
Though that last is an option most people might not understand or might not think they need, XML is a cutting-edge means of shaping information into a kind of universal format. Information technology people are probably gritting their teeth at that explanation, but if I get more technical than that the review will start to wander.
The main reason I mention it is that it shows how the programming fits and finishes allow for little options like this. Such things may or may not be useful to most people, but they are there for those who need them, and the ones I've tested work well. If you want to go beyond charting to doing a report, you'll find the process entertaining, and the reports themselves quite useful and well-written.
When you give the instruction to do the report, you can watch AstrolDeluxe build it on screen. Several reports are available, but the program comes with one called "Personal Path" which gives a good standard chart reading. The astrologer who wants to sell these reports or provide them to clients can individualize them in a variety of ways, including choosing the fonts, settings the footers, and including or excluding various interpretations. As with the main program, even though you can do reports without altering the standard settings, if you want to you can configure both content and output to suit your personal taste.
Finally, along with utilities such as an ephemeris generator and a compatibility search, AstrolDeluxe has a very useful research module that allows you to search for charts with similar features in order to study how something like, for example, Sun conjunct Uranus in the 1st house works out in practical terms.
The research module is designed for "chart file" research of the sort that most astrologers do, and though it takes a bit of learning, the help file is very clear and will answer most of your questions. Altogether, AstrolDeluxe ReportWriter 6. Even though many aspects of it are geared to the professional user, it is simple enough for a student of astrology to learn, as the program's standard settings make it easy to use the program "out of the box.
Oh, and one more thing which I haven't seen in an astrology program before is a handy utility that allows you to synchronize your computer's clock with the U. It's a nice touch in a nice program, and another of many reasons I can recommend AstrolDeluxe. One of them is a favorite of mine: Gauquelin sectors and power zones. The positions of the planets in this framework are given in a listing easily available from the "Display" menu while viewing a chart.
The table shows both the actual sector a planet is in and the zone plus or minus , along with some other useful information.
Going a step further, however, AstrolDeluxe 6. It's not possible to go into this further in this limited space, but I'll be using this feature from time to time in "New Astrology" columns, starting next month. Another new feature worth mentioning is a Boehrer Declination Graph, a type of display that makes it much easier to see the role that declination plays in a particular chart. The February through April issues do discuss using AstrolDeluxe to research Gauquelin sectors and power zones in a collection of famous charts. I have been mainly using both Winstar and Solar Fire programs over the past 12 years, but was recently invited by Halloran Software, Los Angeles to review their latest report writer with "Kidzone" child natal reports and "Journey Returns" Solar Return reports.
I'm glad that I invested the time to do this task. I must say that I was very impressed to experience such a quality chart program at a reasonable price, coupled with a thorough yet simple report writer series, which will certainly be quite useful in my work. There are many astrology programs available, but very few with good professional report writers that I could recommend. However, I can quite strongly endorse these as being suitable for professional astrologers in Australia.
Halloran programs are quick-loading and don't gobble up enormous chunks of computer disk storage space, so its very feasible and economical to buy it as an "add on" to your current chart program or suite of programs, just for the sake of the professional report writers. As a bonus, it includes the latest version of the ACS atlas. Many astrologers in Australia and New Zealand are familiar with Halloran through their large ads in the bi-monthly " Mountain Astrologer " magazine.
Book Details
Halloran has been supplying astrology programs since the 's and about astrologers in Australia and New Zealand have bought from them direct over the years. The first thing that struck me about the Halloran program is its basic simplicity and down to earth, practical approach. Most chart programs and writers have quite a challenging learning curve, especially for those who find computer programs daunting. This one makes it very easy to set up and configure individual astrologer's requirements and to feel confident about using the program and all that it offers.
The data entry screen layout is good and offers loads of options plus an editor. You can choose from eleven standard house systems, plus a "user" system. The reports themselves use a practical approach and are easy for clients to read and understand. The quite extensive Kidzone child reports are written by a New Zealand Astrologer and personalised for the child's name.
This report covers approximately 55 pages including a concise introduction and it may be easily edited on screen before printing. It's comprehensive, yet a good one for non-astrologically inclined parents to understand. As most of you know, child report printouts are very popular with people seeking simple yet accurate insight into a child or new baby, especially as a gift or for people who are not yet willing to pay the cost of a full live consultation or individual report.
I tried this one out on a few "non-astrology" clients who have had various printout reports before. They were all very happy with it and more than favourably impressed, commenting that they were sure that it would a helpful guide. The basic Report Writer program includes a first-class unabridged world atlas with a database of , cities, plus a great "lookup" option. One very good feature is that you key up the place and state and it immediately selects the right one, which can avoid confusion where there is a town of the same name in more than one state.
Also included is an instant chart "now" button and a "sunrise" button for unknown birth times. It's also easy to change planetary orb widths. On the other hand, the chart generator only offers a standard graphic chart format with editable features, although I find that it's simplicity and clarity are adequate. There's the usual bi-wheel and tri-wheel display option for transits and compatibilities and you can easily swap the inner and outer charts.
You can produce Harmonic and also composite and Davison charts for synastry work. The chart options offered within Report Writer are surprisingly extensive, including a few special ones such as:. Novien Charts, a chart used by sidereal astrologers, derived by multiplying the primary chart placements from the start of sidereal Taurus by nine.
A simple chart research option is useful for quickly locating planets by sign and house location. It's also possible to import charts from other programs. The transit summary list printout is quite complete, listing both transiting and corresponding natal aspects, but to me, it seems a bit crowded and "dos-ish" and could have a neater and more appealing windows style layout for both clients and astrologers.
The Solar Return report writer is well-based astrologically, thorough and easy both for astrologers and their clients to read. As an astrological guide for the year ahead, it's realistic, with very practical advice and comments. There's not too much preamble for the practising astrologer, yet there is enough explanation for the lay person to gain helpful insight into potential opportunities and challenges for the whole period of the report. The report explores the return chart itself as an entity and the potential impact of the return on the natal chart.
The advanced version includes transiting aspects from the Sun out, to the Solar return. This, of course, can be edited. It also includes progressed Solar Return angles as timing devices, which is helpful for people who wish to use the Solar return in conjunction with planetary transits for accurate astrological forecasting.
The report is indexed, with some good explanatory notes for clients. It allows you to select a simple standard report of around 40 pages or three other more advanced levels - Intermediate, Concise Advanced or an Advanced report of pages. The advanced version is far more copious than most people would require. The standard report version is quite enough for most people. They also have a "Famous Charts" program with charts plus Biorhythms Cycles, and TimeSearch reverse engineered horoscopes search for planetary cycles.
John Halloran seems to have his finger well and truly on the business and is quick to respond to queries. Program review by Anne and Peter Button who work together in Melbourne as professional consultants and teachers of Astrology, Numerology and Tarot, with clients throughout Australia and overseas. Anne's client approach is towards encouraging and facilitating personal growth and self-empowerment.
Anne is a speaker at the International conference in Melbourne. He is currently developing and extending his professional skills into the spiritual healing and clinical hypnotherapy area. At about half the price of the large professional programs, it nevertheless offers an amazing number of calculation and research functions, is very stable, and has a full suite of optional add-on inexpensive interpretive reports. It has been developed and enhanced consistently over many, many years and is a very solid and stable program. AstrolDeluxe has an 8, year date range of planetary calculations with 1' of arc precision from - , 70 asteroid positions for dates from , and the full ACS U.
The software makes it easy to select your default house system, local coordinates, points displayed in charts, glyph colors, and seven different sets of aspects and orbs for natal, transit, progressed, synastry, midpoints, arabic parts, and asteroids. I wish all programs were this simple to customize.
Its help screens are exceptionally complete and well written; you can learn to use any function without going to the manual. AstrolDeluxe's method of displaying aspects in a bi-wheel is exceptionally easy to read. See Figure One Title: Bi-Wheel with Aspect Lines Note: While the program displays glyphs in chart wheels, in order to see astrological symbols instead of three letter abbreviations in tables and hit lists, you have to either: 1.
Use the free Font Mapper included in the program to re-map the astrological symbols from an astrological font you already own for use in this program, which is quite easy to do. The software has many advanced features, including the ability to create any number of additional Arabic Parts, to copy charts to the clipboard, to save charts as image files e.
This is a truly innovative and excellent feature. Double-clicking on any line pops up Witte's delineation of that particular planetary picture. AstrolDeluxe offers in-depth harmonic analysis of the sensitive points, showing the strongest harmonics for any chart. AstrolDeluxe can also create ephemeris pages. There are also a very fine assortment of synastry tables. You can look at the aspects between either person's planets and the second person's midpoints, Arabian parts, asteroids, planetary pictures, house cusps, as well as declinations parallels between both people's planets.
One of the most outstanding features in AstrolDeluxe, and my favorite, is its great set of research functions. You can search any set of charts, with the greatest of ease, for a specific birth date or day, month, or year; planets by house, sign, decan, degree range, aspect, or retrograde; for intercepted signs or planets, for signs on house cusps and linked houses houses with the same sign on both cusps , for house rulers by aspect or house, void-of-course Moon, strongest harmonic, remarks, client notes, or unlimited multi-paragraph memos about the chart which can include imported biographical or classification details from AstroDataBank , and for midpoints in aspect to any planet.
The research module can even create control groups to compare your results with to eliminate spurious findings. See Figure 3 Title: Research Screen One phenomenally powerful feature of the research module is its ability to search only derived charts, i. This enables you to explore who, for example, has a T-Square in their progressed chart. Note: you can only search derived charts that you have previously created and saved.
Another truly exceptional feature of AstrolDeluxe, and the reason why the full name of the program is the AstrolDeluxe ReportWriter, is its amazingly powerful astrological report designer. For astrologers who want to create their own natal, transit, progressed, solar return, or relationship reports, the software provides a complete set of tools and superb formatting controls.
You can create boilerplate blocks of text that automatically are inserted at specific places in each report, put the client's name in the body of the text, include interpretations for decanates, transfer the output to your word processor for additional formatting e. Of course, the software makes it easy to enter text for planets in signs, houses, and aspects in order of strength , and allows you to select from different report formats: e. You won't have to create your own interpretations, however, because AstrolDeluxe comes with the Spirit Success natal report built-in see below and also offers a wide range of very inexpensive add-on interpretive reports, that are fully licensed for resale.
In fact, using AstrolDeluxe is the least expensive way there is to get your own complete suite of saleable interpretive astrological reports. The Spirit Success report by Carolyne Lacy produces a report of about 18 pages.
Jessica Murray
Each paragraph begins with a thematic keyword. Here's a sample: Moon opposite Venus Strength: Much of what you fantasize may come about because of your positive attitude of expectation, but be prepared for those times when only the sweat of your brow will produce the results you desire. The Spirit Success natal report is very well written, and it's wonderful that AstrolDeluxe now bundles it with the program.
The Natal Reports: Using the standard template, all of the natal reports first delineate planets and the angles and the nodes in signs and houses, and then in aspect and assign a weight to each aspect , and then conclude by interpreting elemental and modal predominances. You can also select other templates to interpret the chart house-by-house, or with other formats.
This is partially because of your overwhelming need to earn others' good favor. You always feel compelled to prove your sincerity and loyalty to others, but they often suspect you when you do. You can be extravagantly generous in your efforts to win friends and influence others, and yet people don't show appreciation for your gifts.
Those you love most may even misunderstand you. Conflicts with family members and lovers are common. They may be defensive and suspicious of you, wondering what it is you want from them in return for your generosity. You must learn to accept yourself as you are, and then you will know that others can accept you too.
Until then you will relate to others with such a sense of desperation and urgency that they become agitated by your energy and reject you. Form solid friendships with those you care for. Get to know them on an intellectual level before becoming emotional. Be companion and confidant to them without expecting anything in return.
You'll be surprised at how much you receive from others once you stop demanding it. Learn to give people their own private space and to keep your nose out of others' business. Be careful in spending your money--you do have a taste for the finer things in life. At times, however, you may have a "champagne appetite and a soda pop pocketbook. In love relationships you may learn to use sex to acquire expensive gifts and special treatment. Just be careful that you don't end up paying handsomely in the end.
The Personal Path Report goes into much more depth than the Spirit Success report, and often offers excellent suggestions for working with chart factors. Occasionally, however, the delineations don't quite fit. Nevertheless, the report is a bargain and worth exploring. This report is surprisingly sophisticated and delineates planets in Gauquelin sectors, famous people who have the same Ascendant and Sun positions, decanate interpretations for the Ascendant, M.
They lend balance, steadiness, and perspective to your thinking. Your ability to remain calm and collected under pressure can lead to success as a politician, military leader, statesman, filmmaker, entertainer, or athlete. You do well in adversarial or competitive situations because you keep your cool and are able to make the right move at the right time. Your sense of balance, form, and harmony favors any kind of musical or artistic pursuit. You have a knack for perceiving inter-relationships and abstract connections, which may lead to an interest in mathematics, physics, philosophy, musical composition, chess, or similar intellectual pursuits.
There is often considerable literary talent. You may also have a tendency to deal with stress by escaping into self-indulgent behaviors. The Journey Career Report is a comprehensive and carefully crafted analysis of each astrological factor's influence upon career. As such, it will present you with a great deal of information to digest and synthesize.
It is one of the best career reports that I've seen. I like the writing in this report. It is balanced, thoughtful, and quite useful for the parent. Parental expectations, attitudes and ambitions for the child.
Posts navigation;
sagittarius lovers tarot.
capricorn refinery horoscope;
aries daily horoscope february 26 2020.
horoscop rac 26 january.
january 5 birthday taurus horoscope.
The Mountain Astrologer.
The outside world. Hank has Venus in the 10th House so will definitely be ambitious and quite serious. These kids will always seem to be very mature for their age. They are diligent and will work hard to get results but they do need recognition for achievements. In fact, that recognition is often their greatest motivator. Venus in the 10th House often indicates a person with a good voice. Who either speaks beautifully or perhaps with singing ability. Venus in the 10th House often suggests a warm relationship with the father-figure, or with the mother if she has taken a fatherly role in their life.
In either case, that parent has a positive and good influence on the child. These kids see the world through optimistic eyes. They see it as a place where they can live and enjoy themselves with confidence, rather than as a rat-race that has to be overcome. But, to feel good about the world, this child very much needs their parents' support. If this is missing, Hank could suffer very badly throughout childhood.
With maturity, Hank will probably be attracted to sophisticated entertainment - like the arts for example. The actual career could well involve working with people in a diplomatic, or counseling type capacity. Hank will probably be interested in the world at large rather than just the local environment. This child should definitely succeed and climb the social ladder with ease. As Hank reaches adulthood the word "sophisticated" will become an apparent word to describe this young person.
The Predictive reports. There are three predictive reports available as add-ons. For the inner planet transits e. For the outer planets, however, they can span several paragraphs. It may seem that you must make drastic changes now in order to preserve your sense of security. What is happening is that you are rearranging your internal energies to such an extent that your outer world must reflect these changes.
This may bring circumstances into your life which will seem at first to be overwhelming and out of your control. In actuality, you are only experiencing an outer reflection of the changes occurring within you. It may seem at this time that the entire world is against you. You will feel pressured into doing things which you do not want to do, and you will vigorously resist.
If resistance does not produce the results you seek, you will be forced into changing the situation. Either way, you need to watch your health, since you will expend a great deal of psychological and physical energy now. Problem areas include taxes, insurance, divorce settlements, corporate affairs and inheritances. You may lose resources which you have come to rely on during this transit so that you have to become creative with your finances and other material resources. Now is not a good time to start new projects, but rather it is the time to put old ones to the test of endurance.
Many people and situations may pass from your life now because they cannot withstand this test. It is best to willingly let them go, for they are no longer appropriate to who you are becoming. Now is the time to honestly evaluate all aspects of your life and voluntarily relinquish whatever you no longer need, such as things or people which make you feel secure but do not add to your personal growth. If you do not do this willingly, circumstances will force you to do it, so it is better to cooperate in the process. When this transit has passed, you will be able to understand why these people and things had to be eliminated in order to accommodate your new sense of self.
You are going through a transformation now and will hardly recognize the old you once it is completed. It shows when progressed planets enter new signs and degrees, and when progressed aspects complete. Be careful, though, because some of the readings are a bit negative. Here's a sample: Progressed Ascendant conjunct Mars: Sep, 0. You can take the lead in initiating new projects and pursuing personal goals. Others may see you as too pushy and self-interested at this time.
This can sometimes indicate a marriage or the birth of a child. Events occur involving the young men in your life. If this conjunction makes stressful aspects, there is a risk of divorce, injury, accident, inflammation, infection, burns, or a need for surgery.
This extensive report covers the planets, angles, and aspects within the return chart and between the return chart and the natal chart. It is not only comprehensive but very carefully written and a valuable report to own. Here's a sample: Return Ascendant in the Natal 2nd House The Natal House placement of the Return Ascendant shows where you are most likely to take personal action during the coming year. Your dominant interests and activities will center around 2nd House matters such as income, finances, money, resources, belongings, and personal values.
This is a year to get your financial House in order. Review your budget, plan your savings, make a will, and do what you must to provide for yourself and your loved ones. You may have the opportunity to improve your economic outlook, perhaps by seeking a raise, settling old debts, or pursuing new sources of income. If the planet s that rule or occupy the Return 2nd House are afflicted, there is a risk of monetary loss or financial difficulty.
The Return Ascendant-Descendant axis also highlights 8th House issues such as shared resources, taxes, loans, investment income, joint finances, sexuality, mortality, spirituality, the afterlife, crises, healing, personal transformation, and occult interests. On occasion this can signify a need to deal with a legacy, the goods of the dead, or the passing of someone in your family or in your circle of acquaintances. You could also spend considerable time this year on matters related to your own health and mortality.
Synastry Report. The software assigns a positive or negative weighting to each aspect, depending upon how strong it is, and at the end of the report gives a total of all of the weightings and the ratio of positive to negative factors. This combination can be difficult to work with in romance unless other aspects provide the missing element of companionship.
There is a danger of disagreements and misunderstandings-- and of course this is exacerbated by one or both partners taking a stubborn position. You must each learn to compromise with the other in order to achieve harmony. I find both the format and interpretations of the Star Match report to be well done. AstrolDeluxe is amazingly powerful, and offers a surprisingly diverse set of capabilities in a very inexpensive package.
It has outstanding research functions, and many unique types of tables and charts. Its built-in report designer and fine natal report, and optional inexpensive report add-ons allow astrologers to create their own reports and market high quality astrology reports to others easily and economically. I can see why so many astrologers are happy that they own AstrolDeluxe ReportWriter.
A customer sent in the following reaction to the above review: "I just received my latest issue of The Mountain Astrologer, and was pleased to see your software reviewed in Mercury Direct. Unfortunately, I thought the review failed to do justice to the program, especially the ReportWriter function, which seems to me unparalleled amongst all the other astrology software on the market.
When I bought my first computer I wanted software that was idiot-proof and intuitive. Not having the patience, time, or expertise to read through pages and pages of technical garble, once that new computer was plugged in and online, I explored astrology software sites, looking for freebies and samples. Always cautious about spending money Saturn in the second! Of the several programs evaluated, I chose AstrolDeluxe and still use it regularly. Maybe this is my fixed sign tendency to resist change, or perhaps a preference for the tried and true.
It may have to do with the fact that while helping John at his sales booth at ISAR '96 I found him honest and forthright just like his programs.
All Roads Lead to Baltimore
Perhaps my fondness for the program stems from John Halloran's willingness to include the declination conversions to longitude that Jamie Longstreet and I worked on in the 90's or the fun I had beta testing the Report Writer. Personal preferences aside, over these many years I have found all of the AstrolDeluxe products to be reasonably priced, dependable and simple to operate. Today, astrologers expect software to do everything except take out the garbage and are no longer satisfied with a program that merely takes the burden of hours of hand calculations off their hands.
Most astrologers require an internet-friendly program that is compatible with a variety of software and word processors, prints sharp and "professional" reports, allows users to add their own words to interpretive text, and contains tools to perform research and practice new techniques. The biggest improvement to AstrolDeluxe is the ability to create a Tri-Wheel.
Many astrologers begin personal consultations by analyzing natal chart, progressed chart, and transits and want all this information compiled on one piece of paper. This was one major objection to previous versions of this software that is now overcome. One can save the chart as HTML, attach it to email, and send it off to the nether regions of the web in a few short strokes or upload it to a web page, "as is".
Those struggling in dark back alleys of computerland, where it is not polite to use attachments, can "save as ASCII" which makes a text file suitable to paste in the body of email.
your gateway to understanding the cosmos
Even better, AstrolDeluxe 5. One can still choose to save graphics as a bulky BMP file. All of these formats are actually conversions from a BMP, so don't expect the highest print quality in the lines on the charts, but this feature is a vast time-saver for those who have to convert astrology graphics for publications elsewhere. One reason I have stuck with AstrolDeluxe is because comparing two charts is extremely simple. Now inner and outer chart wheels can be switched with a click of the mouse. Viewing the chart from a different perspective is particularly helpful with synastric comparisons because one can see more easily which houses the other person's planets occupy.
This is a time-saver for dedicated astrologers and a much needed improvement. These days, it is taken for granted that language is not a barrier to worldwide communications. Perhaps one of the most appealing modifications in the latest incarnation of the program is the ability to run interpretations and create charts in other languages. AstrolDeluxe 5. One can now customize the AstrolDeluxe Report Writer to translate existing text into another language, save the foreign language files, and have charts to match.
Owning a program that allows astrologers to share charts in various languages is a great boon to the community. One of the features I use most often in this latest version is the ability to view declination aspects quickly from the "Display" menu. Subsequent issues and rapid expansion. Morrison was the first subscriber He advised Tem on how to expand. By the fourth and fifth issues TMA started to feature other writers.
Met wife, Kate Sholly, in early , who had experience editing.
Rick Levine Astrology Forecast for October 2019
Later years Peak print circulation occurred in the early s. Started offering digital version in late s. TMA website and blog. General points: TMA is unique in the community because it is very high quality. Has editors who help authors to improve their articles.
Graphic design and layout.
Ep. - Tem Tarriktar, Mountain Astrologer Magazine - The Astrology Podcast
Some focus on aesthetic appeal. TMA became one of the main hubs for communication in the community. A number of questions submitted by listeners and patrons were asked and answered towards the end of the show. Share this: Facebook Twitter Reddit Email. Comments Mar says. March 29, at pm. Adam C. Madison says. April 4, at am. Janice says. August 10, at pm. July 30, at pm. About The Astrology Podcast The Astrology Podcast is a weekly show featuring discussions on technical, historical, and philosophical topics related to astrology, hosted by professional astrologer Chris Brennan.
Support the Podcast Support the podcast by becoming a patron and get access to some great benefits and extras:. Subscribe to the Podcast You can subscribe to the podcast for free via email, iTunes, or other mobile apps. Search the Podcast. Online Courses by Chris Brennan. Our New Book. Return to top of page. Sorry, your blog cannot share posts by email.
The mountain astrologer download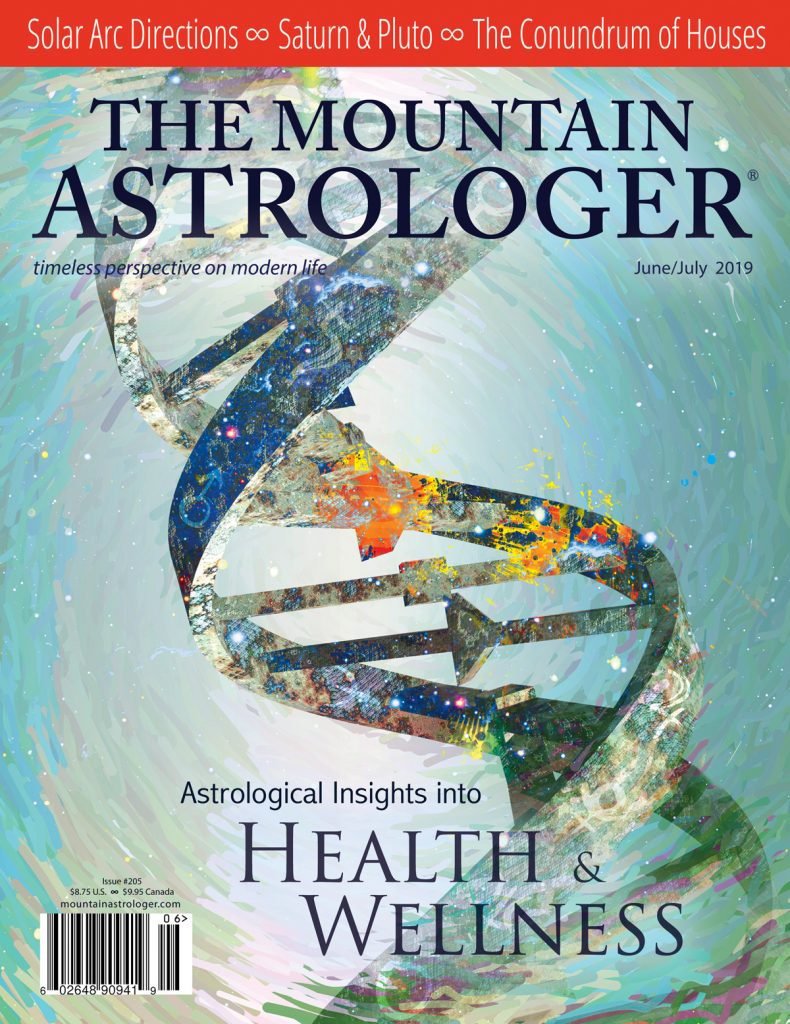 The mountain astrologer download
The mountain astrologer download
The mountain astrologer download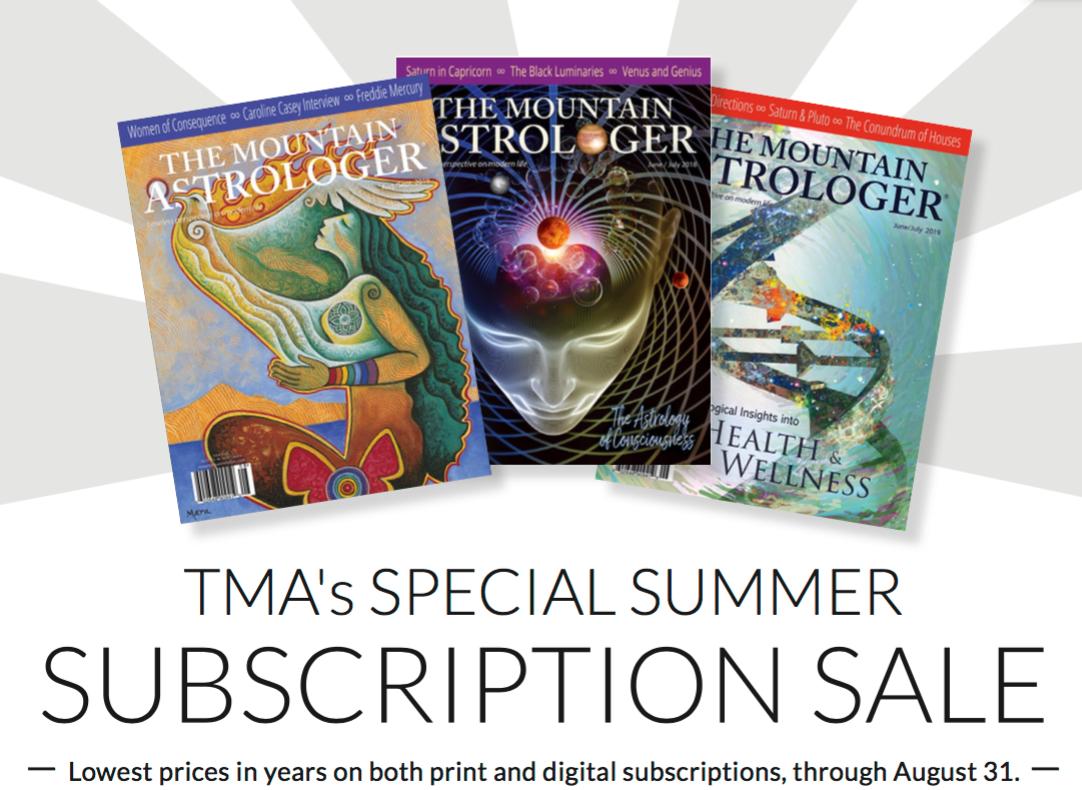 The mountain astrologer download
The mountain astrologer download
The mountain astrologer download
The mountain astrologer download
---
Copyright 2019 - All Right Reserved
---